DIABETIC NERVE PAIN GETTING ON YOUR NERVES?
A Clinical Research Trial for Diabetic Peripheral Neuropathy (DPN) is currently enrolling!
Diabetic nerve pain or diabetic peripheral neuropathy (DPN) develops slowly and gets worse over time. Due to the loss of sensation caused by nerve damage, a person is more prone to developing skin ulcers (open sores) that can get infected and take a while to heal.
We're investigating a study drug for diabetic nerve pain that might aid in your pain management.
You may qualify for our Diabetic Nerve Pain Clinical Trial, if you are:
18 years or older
Have been diagnosed with Diabetic Peripheral Neuropathy (DPN)
Take antidiabetic therapy for type 1 or type 2 diabetes
Prime Revival Research Institute is conducting Diabetic Peripheral Neuropathy (DPN) Clinical Trials to assess the safety and efficacy of a study drug. This study drug may be able to benefit you or your loved ones by helping manage your symptoms of diabetic nerve pain.
*Other criteria may apply
*Participation in the DPN clinical trial is free of cost to both you and your insurance company. To see if you qualify for the study, please fill the form. Someone from our research staff will give you a phone call and they might ask you questions about your medical history and information about any medications you take.
**If you qualify and decide to participate, you will receive study-related care from experienced healthcare professionals including Endocrinologists and nurses.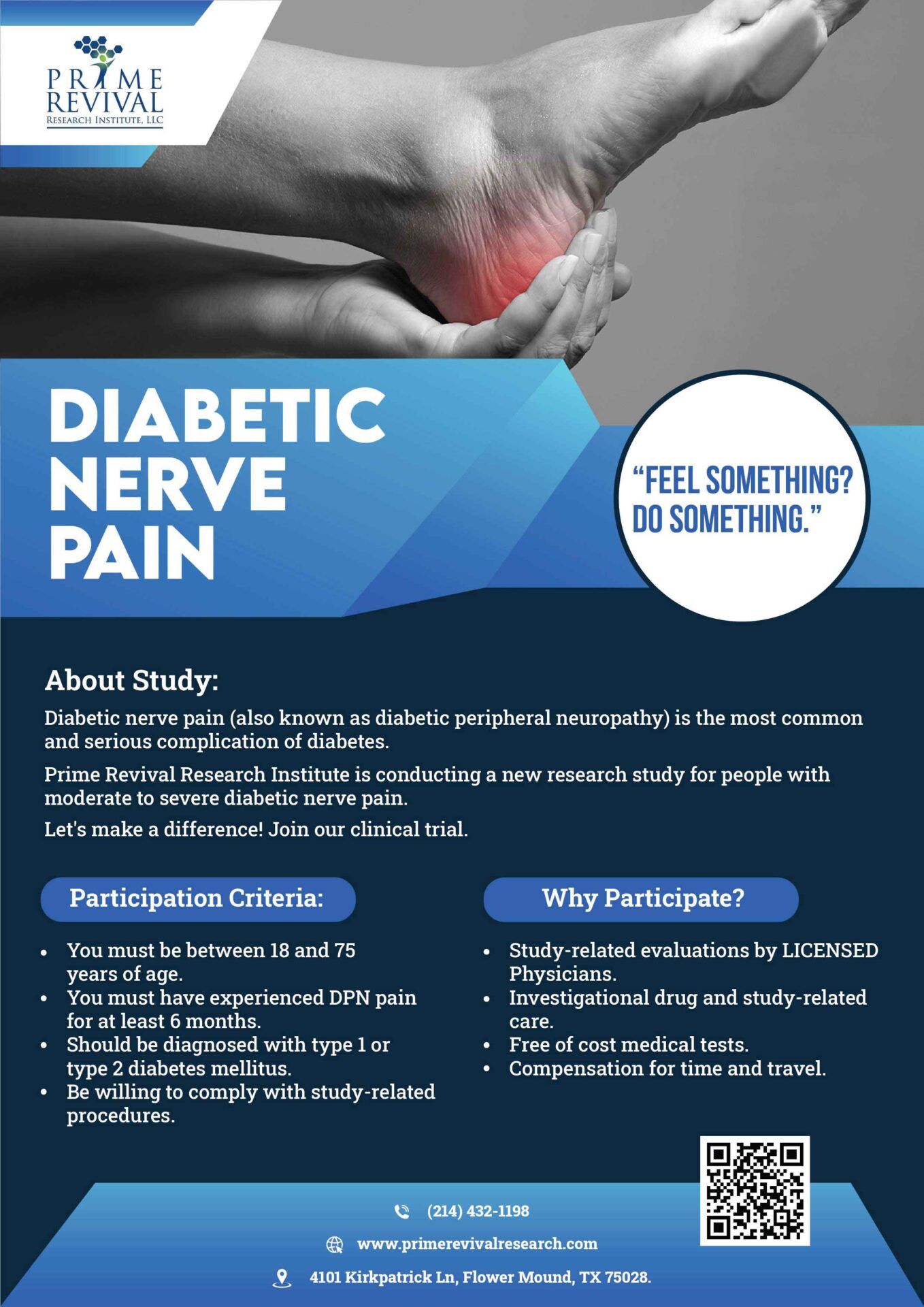 About Diabetic Peripheral Neuropathy Study
The diabetic peripheral neuropathy study is dedicated to evaluating novel treatment options for patients suffering from nerve damage caused by chronically unstable diabetic management. This is a double blind, placebo controlled study which means that neither the participant nor the researcher knows who is receiving the study drug and who is receiving the placebo. The potential DPN treatment is a medication that is taken orally.
Participants qualify for the DPN clinical trial if they:
Are 18 years or older
Have been diagnosed with DPN
Can easily take the study drug on the specified timing
If you qualify for this research study and decide to participate, you will have to visit the center approximately 7 times over the course of 15 weeks. During the course of the clinical trial, you will receive thorough examinations and dedicated care by our authorized team of experienced healthcare professionals. Enrolling in this trial dedicated to diabetic peripheral neuropathy (DPN) treatment may be beneficial to you and countless others suffering from similar symptoms. Participation is free of cost and no insurance is required.
About Diabetic Peripheral Neuropathy
Diabetes is a condition that affects your pancreas (insulin producing gland). Insulin is responsible for transporting the glucose/sugar, in the form of energy, to the cells of your body. In this disease, there is either lack of insulin response or no insulin production at all. This causes the glucose to accumulate in the blood causing multiple complications.
One of the most common complications of diabetes is Peripheral Diabetic Neuropathy (nerve damage/dysfunction). Diabetic Peripheral Neuropathy or DPN is often the most common symptom of diabetes. DPN starts by affecting legs and feet and then moves to hands and arms. The signs range from nerve pain to ulcer leading to amputation. Some of the symptoms include numbness, tingling, bone and joint pain (Diabetic Nerve Pain), increased touch sensitivity, ulcer, and infection.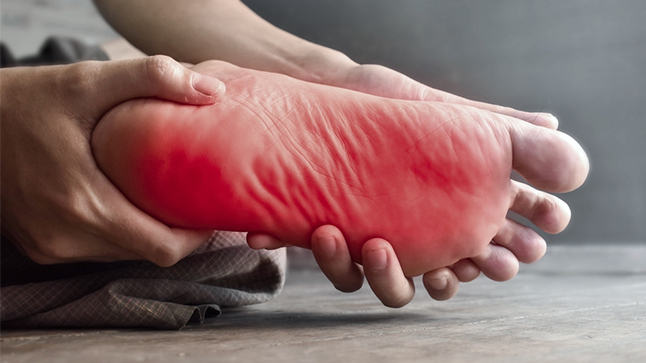 Not Recruiting
STATUS AND CRITERIA
$

99

Per Month
Age 18 years
Gender Males and Females
Condition Diabetic Peripheral Neuropathy
Location Texas
Enroll Now
If you want to participate in DPN Clinical Trial. please fill the form above. One of our research representatives will call you to give you further information about the study. If you qualify for the diabetic peripheral neuropathy study, you will be assigned to either of the 2 groups in which you might receive the placebo (medication without active ingredient) or the study drug. The study doctor who will be in charge of your care will not know if you've received the medication.
By participating in any clinical trial you are able to play a more active role in the healthcare system. If you decide to participate, you might receive the treatment for your diabetic nerve pain before it reaches the market. Once you decide to take part in the study, you will be asked to sign the Informed Consent Form which includes the criteria and duration of the study treatment.
Participants will receive free-of-cost blood tests and complete physical examinations. All volunteers will also receive study-related care by healthcare professionals.
Frequently Asked Questions (FAQs)