Is it Getting Difficult to Keep Track of Your Blood Glucose Levels?
Participating in a clinical trial for Continuous Glucose Monitoring System (CGMS) may help!
Diabetes develops when your body's cells are unable to absorb or process glucose (sugar) and utilize it for energy. Extra sugar builds up in your system which ultimately causes the blood glucose levels to increase and diabetes to develop.
Diabetes is of 2 types; Type 1 and Type 2. The fundamental difference between the two forms of diabetes is that Type 1 diabetes, which frequently occurs at a young age and when one's immune system mistakenly damages the insulin-producing cells in the pancreas. As a result, these patients have a complete absence of insulin, whereas Type 2 diabetes occurs as a result of genetic predisposition and lifestyle factors such as overeating and sedentary habits.
These patients are initially insulin resistant and ultimately become insulin deficient. For many patients with diabetes, checking blood glucose levels frequently is extremely important but it is cumbersome with the traditional glucometers. Continuous Glucose Monitoring Systems (CGMS) represent a revolutionary breakthrough that allows real-time continuous measurement of glucose levels by a small plastic catheter placed under your skin.
This method allows our patients to keep track of what makes their numbers go up or down. This leads to better eating habits and consistency with medications. Prime Revival Research Institute is conducting a Clinical Trial on an FDA-approved device for Continuous Glucose Monitoring for Diabetes to replace traditional blood glucose testing in treatment decisions.
You may be eligible to participate in the Glucose Monitoring Clinical Trials if you:
Are 4 years or older
Have been diagnosed with diabetes Type 1 or Type 2
Can comply with all study procedures
SEE WHAT OUR PRINCIPAL INVESTIGATOR DR. WASIM HAQUE HAS TO SAY ABOUT CONTINUOUS GLUCOSE MONITORING (CGM)
About the Continuous Glucose Monitoring Study
Diabetes mellitus (diabetes) is a group of diseases characterized by the inability of the body to adequately produce and/or use insulin, leading to high blood glucose levels. In this study, we are evaluating the relationship between HbA1c and average glucose levels. Around 300 subjects, men and women will be enrolled in this study so that we can have 200 evaluable subjects.
Average glucose levels will be monitored through a Continuous Glucose Monitoring Device. This device will be given to you and it will provide continuous retrospective glucose data which will tell us about glucose variability. On the contrary, for HbA1c you will have a blood test done every 2 weeks to check for significant changes.
Volunteers' participation will take approximately 182 days to reach study completion. This is a non-pivotal, non-randomized, single-arm, multicenter, variation study. Males and females of age 4 or above can be included in this Clinical Trial for Continuous Glucose Monitoring for Diabetes (Type 1 or Type 2).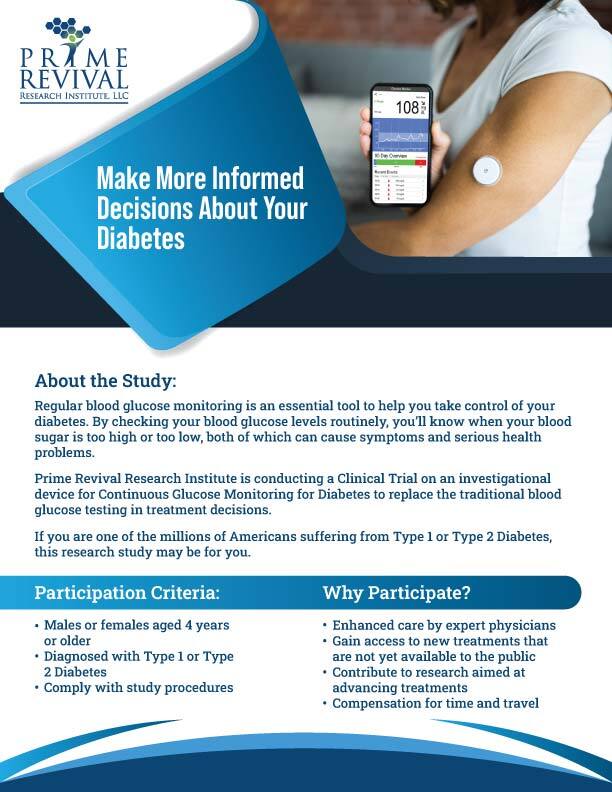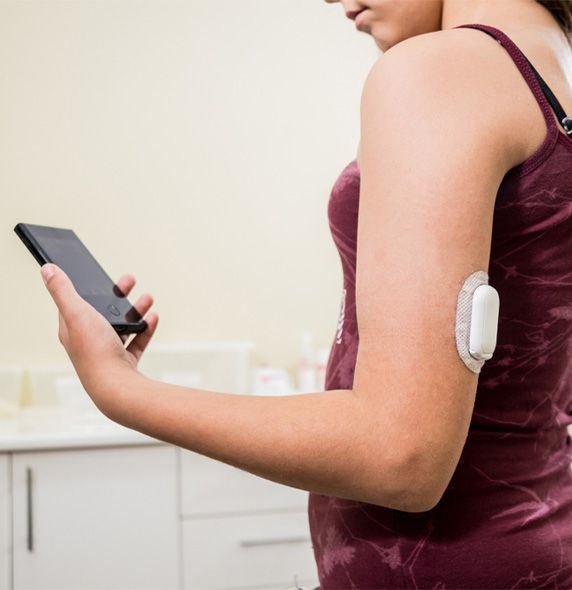 About Diabetes & Glucose Monitoring
Diabetes is a chronic condition that occurs when the body fails to generate enough insulin or when the body's insulin is ineffectively used. Insulin is a hormone that helps to keep blood sugar levels in check. Uncontrolled diabetes causes high blood sugar, which causes serious damage to the body over time.
Why Is Continuous Glucose Monitoring for Diabetes Important?
Blood Glucose Monitoring is used to help those who are experiencing issues of an abnormal glucose level, especially diabetics. Daily monitoring of glucose (sugar) levels will help one with:
Identifying high or low blood sugar levels
Figure out how meals & activities affect their blood sugar levels
Understanding how stress & other environmental factors impact their blood sugar levels.
Recruiting
STATUS AND CRITERIA
$

99

Per Month
Age 4 years and above with type I and II Diabetes
Gender Male and female
Condition Continuous Glucose Monitoring for Diabetes
Location Texas
Enroll Now
This is a Phase 2 study in which participants will receive a device for Continuous Glucose Monitoring for Diabetes. The objective of this study is to see the relationship between HbA1C and average glucose levels. Participants will select which device system they are most comfortable with and will only use it in accordance with approved operating instructions. If you think you could be a good fit for this study, fill out the form above and a study representative will contact you with more information.
On the first day of enrollment, you must sign ICF once your eligibility has been validated. Following that, there will be 13 visits, including a follow-up visit. You will have a POC test performed and blood samples obtained for recording of HbA1C during each visit, as well as a sensor placed on you. You are required to wear a sensor at all times while going about your daily routine. All study-related care, follow-up, and study treatment devices will be provided to you, at no cost. You will receive study-related care from qualified research staff including Endocrinologists, and nurses.
Frequently Asked Questions (FAQs)